Artificial intelligence is transforming many industries, including the world of design and visual arts. Thanks to recent advances in machine learning, there are now excellent AI tools capable of helping us create unique logos quickly and easily.
If you are a graphic designer, illustrator, or work in advertising or marketing, you should definitely know these 7 impressive AI tools for logo generation.
What is Logo Generation with Artificial Intelligence?
AI logo generation refers to the use of machine learning algorithms to create logos automatically. These tools operate by training AI models with thousands of existing designs, and then they are able to generate new custom logos according to user preferences.
You only need to enter a brief textual description of what you are looking for, and the AI will propose different logo designs that match your request. Some tools even allow you to upload visual examples to guide the creative process further.
Thanks to AI, generating ideas for logos becomes much more fast, cheap, and simple. Moreover, you can get surprisingly good and unique results.
Top 7 AI Tools for Logo Generation
Here we present the best 7 AI tools for designing amazing logos in a matter of minutes:
BrandCrowd
BrandCrowd is an online platform that allows you to create custom logos easily using AI. It has hundreds of templates that you can customize by changing elements such as colors, fonts, icons, shapes, etc.
Additionally, it offers a tool to generate logos from scratch by entering your company's name and a textual description of what you are looking for. It's ideal for entrepreneurs and small businesses that need a quick and affordable logo.
The price starts at only $15 USD for the premium plan. Learn more about BrandCrown here.
Brandmark
Brandmark is another excellent tool of AI specialized in logo creation. By entering your brand or business name, it automatically generates hundreds of customized designs to choose from.
It has filters to refine the results, for example, by colors, composition (text, icon, initials, etc.), and business category. You can purchase the logos you like the most for only $25 in its Basic plan. Learn all the details about Brandmark here.
Kreateable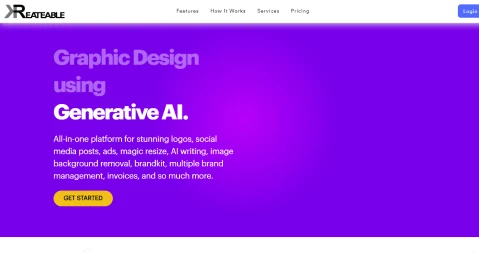 Kreateable is an online platform that uses AI for visual creation. Among its functions, it stands out for generating logos from scratch, entering a brief description of the brand or product.
Kreateable analyzes the description with sophisticated AI and proposes multiple original logo designs that fit the request. Furthermore, it allows you to modify and customize the results to your liking. The price of this tool starts at $3.99 per month in its standard plan. Discover the advantages of Kreateable here.
LogoAi
LogoAi is a 100% automated logo creator using AI. You only need to enter your brand or business name, and in seconds you get a wide selection of logos designed specifically for you.
It includes options to modify and combine different designs according to your preferences. You can start generating logos with this tool from $29 in its basic plan. The designs are 100% royalty-free for commercial use. Quick, easy, and affordable! Learn all about LogoAI here.
Recraft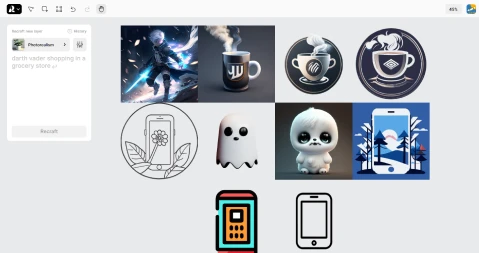 Recraft is an interesting artificial intelligence trained to design logos, graphics, and creative vectors. It has a powerful graphical interface to customize each design quickly and easily.
To use it, you only need to enter a text description of the design you want, the style, and it will show you multiple graphic proposals for you to choose the one you like the most. You can choose the best design and customize aspects such as colors, fonts, shapes, etc.
For the moment, the use of Recraft is free, you can find more information here.
Namecheap Logo Maker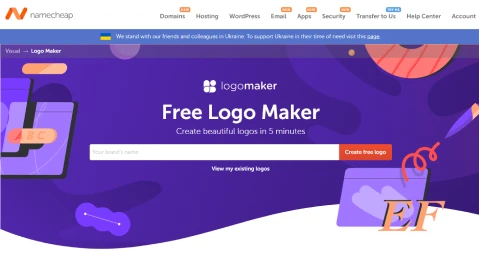 Namecheap Logo Maker is a simple tool from Namecheap to create logos with Artificial Intelligence for free. Its use is quite simple; you enter your brand name, choose the composition, colors, typography, icons, and the tool delivers personalized designs.
This tool does not require any subscription, but to download your designs you will have to register. Explore more about Namecheap Logo Maker here.
Looka
Looka is an advanced design platform powered by AI. It allows you to create logos automatically by entering your brand name and selecting the industry or field of your company.
It has many customization and design combination options. Also, it offers additional services like business cards, social media banners, and more. The price of this tool in its basic plan is $20. Learn about this platform in detail here.
Applications of AI Logo Generation
AI tools for logo design have opened a world of creative possibilities. Some of their main applications are:
Allows companies and entrepreneurs to obtain unique logos quickly and affordably. Ideal for startups.
Facilitates the creative process by proposing multiple visual ideas automatically, saving design time.
Serves as an initial source of inspiration for graphic designers and advertisers.
Useful for creating logos for events, promotional campaigns, digital products, merchandising, and other temporary uses.
Allows agencies to offer low-cost logo design services with good quality. Increases productivity.
Contributes to democratizing access to advanced graphic design tools.
The Future of AI Logo Generation
AI logo generation is still in an early stage with much potential for improvement. In the future, tools are likely to incorporate more advanced capabilities such as:
Greater precision in interpreting complex and abstract user descriptions.
More creativity, variety, and uniqueness in generated designs.
Ability to receive user feedback to iteratively refine logos.
Greater awareness of context and brand identity. Logos with conceptual consistency.
Ability to explain creative proposals and substantiate design decisions.
Integration with other functions like naming, copywriting, brand strategy, etc.
Without a doubt, Artificial Intelligence will profoundly transform the field of design and visual creativity in the coming years. Current tools are just a glimpse of the enormous potential that this technology represents to democratize and facilitate the creation of impactful images.