AI-powered website builders are revolutionizing the way businesses and professionals create their online presence. With these platforms, advanced technical knowledge or weeks of development are no longer required.
In a matter of minutes, you can have an optimized website ready to launch a business or personal project. If you are looking to bring your idea to the digital world quickly and easily, these are the top 9 website builders with AI you need to know about in 2023.
Best AI Website Builders
Kleap
Kleap goes beyond predefined templates. It uses machine learning algorithms to analyze your needs and preferences, generating a website as unique as your project.
Stands out for:
Mobile optimization
Content integration
Clear and intuitive navigation
Support for over 10 content types
Plans from free up to $89 per month
Learn more detailed information about Kleap here.
Makelanding
Makelanding turns a few words about your project into a complete, conversion-optimized landing page. It handles copywriting, design, and other key elements.
Main benefits:
AI-optimized copywriting
6 art styles and 12 color themes
Super easy no-code editor
One-time purchase perpetual license
Prices from $29 USD
Learn everything you need to know about Makelanding here.
Mixo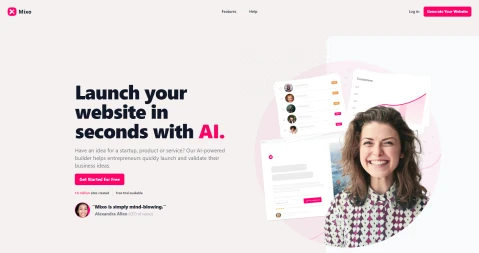 Mixo allows you to create a full website in seconds and easily expand it as you grow. It comes with a no-code editor, hosting, and more.
Main features:
Websites created by AI in seconds.
Visual no-code editor.
CDN hosting for optimal speed.
Optimized design and SEO.
Built-in Analytics manager.
Great for early-stage projects.
Plans from $9 per month.
Launch your website in minutes with AI assistance. Learn more details about Mixo here.
Pico
Pico allows you to create functional web applications simply by describing what you need in natural language. It has unprecedented flexibility to bring your ideas to life.
Top features:
Versatility to build any web app.
Visual no-code editor for customization.
Version history and isolation mode.
ChatGPT integration for a chatbot.
Custom domain and branding.
100% functional, optimized apps.
Affordable pricing from $0 monthly.
Bring your web app ideas to life without code, Learn more about Pico.
Lander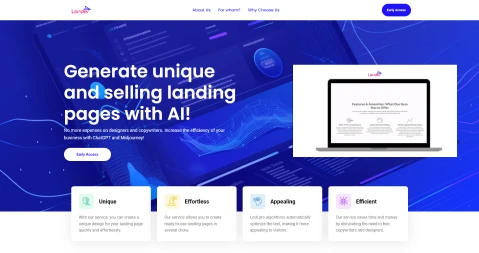 Lander uses advanced AI like ChatGPT and Midjourney to create highly persuasive landing pages. Working closely with you to understand your goals and needs.
What does it offer?
Total customization.
Persuasive texts written by AI.
Image creation optimized by Artificial Intelligence.
Real-time optimization and adjustments.
Time and money savings.
Learn more details about Lander here.
Framer
Framer allows you to go from Figma designs to functional websites with a single click. It comes with a built-in CMS and interactive tools.
Key features:
Seamless Figma connection.
CMS to manage unlimited content.
No-code interactive animations and effects.
Built-in SEO and mobile optimization.
Advanced analytics and metrics.
Flexible plans from $5 per month.
Take your Figma designs to the web instantly with Framer.
Chat2Build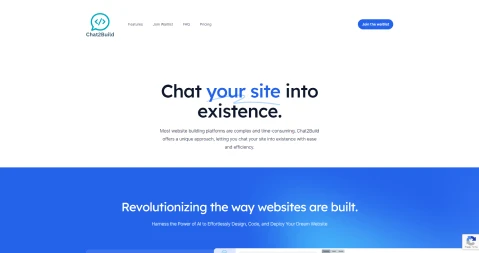 Chat2Build allows you to create the website of your dreams through an intuitive conversation with artificial intelligence. No technical complications.
Benefits:
Waibsite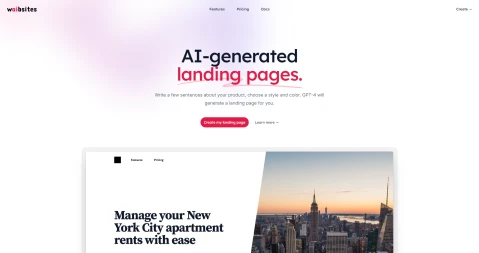 Waibsites uses generative AI to create high-impact landing pages in seconds, just describe your product.
What it provides:
Deployment-ready code
Style and color customization
Built-in Vercel analytics
Stripe payments integration
Optimized template for $12 USD
Instantly power up your online presence. Discover more about Waibsites.
Limecube
Limecube allows you to create websites in a simplified way including powerful security, SEO, analytics, and advanced technical support.
Main features:
Unlimited pages
AI to generate optimal content
24/7 email and chat technical support
Built-in advanced SEO
Integrated analytics and metrics
High security and optimization
Plans from $19.99 AUD per month. More about Limecube.
AI Website Builder Pricing
Below is our comparative pricing table for the 9 AI website builders:
| Platform | Free Plan | Cheapest Paid Plan |
| --- | --- | --- |
| Kleap | Yes | $12 per month |
| Makelanding | No | $29 (basic template) |
| Lander | No | Custom Quote |
| Pico | Yes | $29 per month |
| Framer | Yes | $5 per month |
| Chat2Build | Yes | $9.99 per month |
| Waibsites | No | $12 (template) |
| Mixo | No | $9 per month |
| Limecube | No | $19.99 AUD per month |
Comparison and Analysis of Website Builders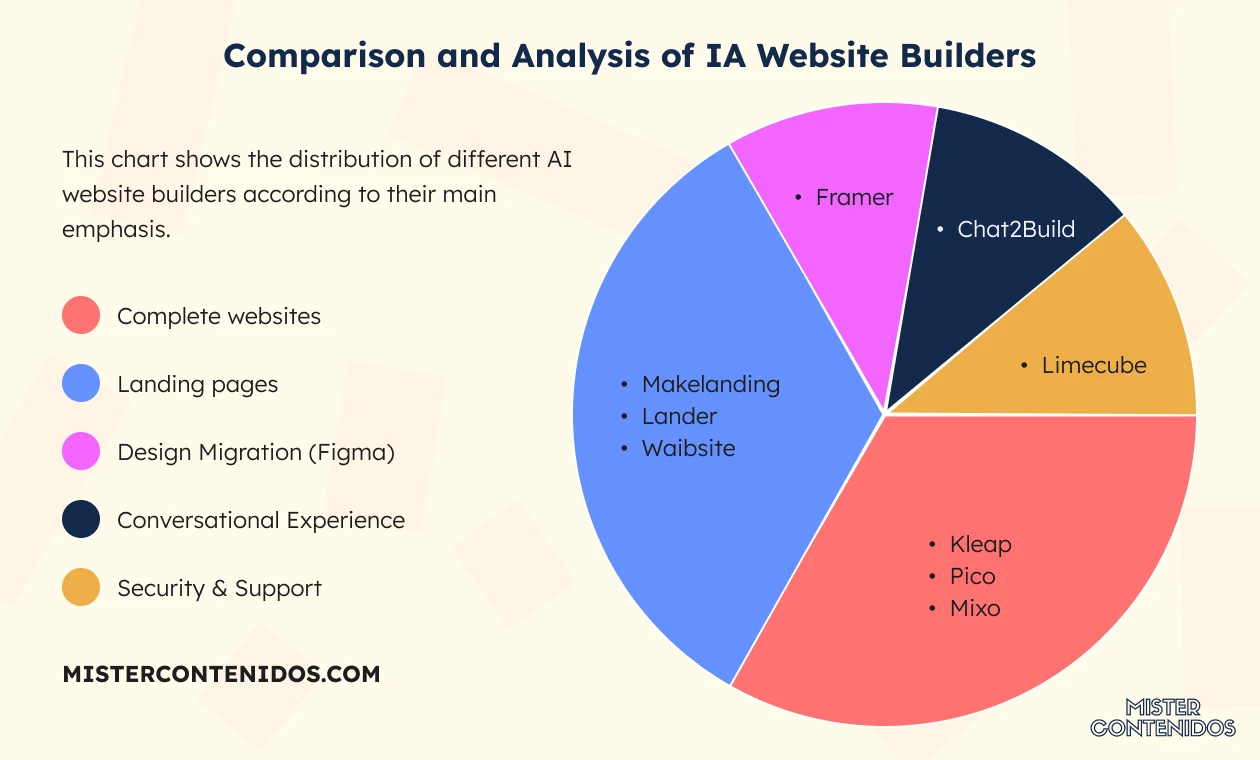 The above diagram represents a comparison and analysis of various AI platforms that facilitate website creation based on their main focus. They have been grouped into five categories:
Full Websites: Tools like Kleap, Pico and Mixo are ideal for creating full, multi-page websites.
Landing Pages: Makelanding, Lander and Waibsite specialize in high-converting landing pages.
Design Migration: Framer is the perfect option if you need to migrate Figma designs.
Conversational Experience: Chat2Build offers a more conversational, interactive experience.
Security and Support: Limecube stands out for its emphasis on security and customer support.
Applications of AI Website Builders
AI-powered website builders have multiple applications for all types of users and use cases:
Entrepreneurs can validate their ideas and launch websites in record time.
Freelancers increase productivity by creating professional websites without writing code.
Artists have a platform to showcase portfolios and sell their art.
The possibilities are endless. These platforms empower anyone to materialize their digital projects.
The Future of AI Website Builders
The future looks promising for AI-powered website builders. As these technologies evolve, we can expect to see:
Deeper integrations of generative AI to maximize automated creation of visual and textual content.
More personalization and unique designs thanks to advances in machine learning.
More advanced features like CRMs, membership systems, forums, and more.
Continuous improvements in speed and optimization.
These platforms will continue to empower more people to create their digital presence without needing advanced technical skills. They will transform how we build for the web.