Artificial intelligence for interior design is transforming the way we conceptualize and visualize interior spaces. Forget about generic and monotonous designs; this technology can customize your ideas to the fullest.
In this article, you'll discover 6 incredible Artificial Intelligences that are taking interior design to the next level. From automatic concept generation to the creation of hyper-realistic renderings, these platforms have everything to turn your ideas into impressive spaces. Keep reading to find the perfect AI tool for your interior design needs.
Top 6 AI Tools for Interior Design
These platforms use advanced algorithms to generate personalized decorating proposals based on your preferences. Forget about generic templates; with these tools, you'll get custom-made designs.
Goodhues AI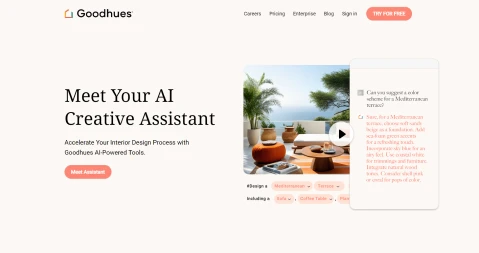 Goodhues AI is a revolutionary AI-powered design assistant that uses advanced algorithms to speed up the creative process of interiors. Simply describe your ideas and preferences, and this platform instantly generates unique and functional design proposals from over 20 decorative styles.
Goodhues AI eliminates the constraints of predefined templates, giving you complete freedom to create the interior of your dreams. Its private images maintain the confidentiality of your designs while its visual simulator allows you to preview spaces in realistic 3D.
Key Features:
Unlimited designs
Variety of styles
Private images
Intelligent search
Visual simulator
Price: It has a free plan and a Pro version starting at $30 per month. Learn more about Goodhues AI here.
Home Designs AI
Home Designs AI is an impressive AI platform that conceptualizes interior and exterior design ideas in just seconds. Its advanced technology produces professional-quality renderings to visualize each proposal with astonishing realism and detail.
You can generate an unlimited number of unique designs by exploring an extensive range of over 40 different decorative styles. From minimalist to tropical, this innovative tool gives you the flexibility to find your ideal look.
Key Features:
Interior and exterior design
High-quality images
Unlimited ideas
Over 40 styles
Price: The most affordable plan is Pro for $29 per month. Learn more about Home Designs AI here.
Colossis io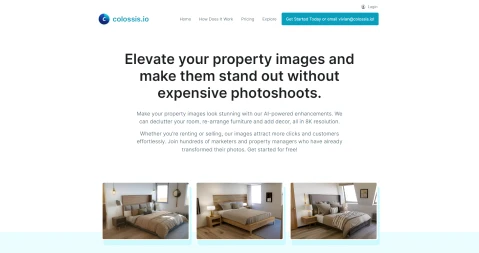 Colossis io specializes in editing and enhancing images of real spaces using AI. It can turn ordinary photos into stunning 8K images and automatically adjust their composition.
This platform is ideal for real estate properties and hotels as it allows you to empty filled rooms, virtually rearrange furniture, and add decorative elements to enhance the aesthetics of the spaces. Your images will look spectacular and serve as powerful marketing assets.
Key Features:
8K resolution
AI enhancements
Data privacy
Ease of use
Price: Their most affordable plan is Go Premium for $99.99 per month. Learn more about Colossis io here.
My Room Designer AI
My Room Designer AI allows you to upload photos of any space in your home or office and instantly applies predefined design styles to visually transform it.
The platform enables you to explore a wide variety of modern and traditional styles to find the perfect look, without compromising your privacy. This platform focuses on providing an intuitive and personalized design experience.
Key Features:
Visual transformation
Wide range of styles
Data privacy
Intuitive interface
Price: The Pro plan costs $9.99 per month. Learn more about My Room Designer AI here.
DecorAI
DecorAI uses cutting-edge algorithms to create exclusive and functional interior design proposals, tailored to the aesthetic needs and preferences of each user.
It analyzes variables like the layout of the space, exact dimensions, and preferred style to generate visually appealing designs optimized for area usage. A significant advantage of DecorAI is the automatic conversion of sketches into realistic representations.
Key Features:
Sketches to photos
Unique designs
Time efficiency
Wide variety of styles
Price: Their most affordable plan is monthly for $24. Learn more about DecorAI here.
Pipers AI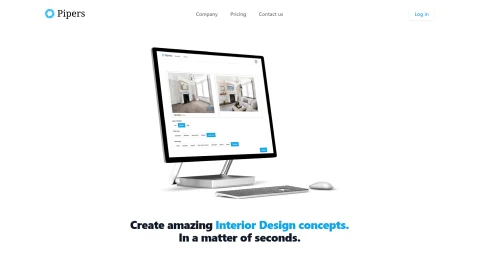 Pipers AI acts as a virtual design assistant, producing multiple design concepts and decorative proposals in just seconds. It features cutting-edge technology for automatic visual generation and an extensive library of design elements.
This platform facilitates the instant creation of intelligent moodboards and allows for real-time rendering to visualize iterations quickly.
Key Features:
Visual generation
Intelligent moodboards
Real-time rendering
Element library
Price: The Pro plan costs $15 per month. Learn more about Pipers AI here.
Comparison of AI Interior Design Tool Prices
| Platform | Free Plan | Most Affordable Plan |
| --- | --- | --- |
| Goodhues AI | Yes | $30 per month |
| Home Designs AI | No | $29 per month |
| Colossis io | No | $99 per month |
| My Room Designer AI | No | $9.99 per month |
| DecorAI | No | $24 per month |
| Pipers AI | Yes | $15 per month |
As you can see, Goodhues AI and Pipers AI are the only ones offering completely free plans for you to try their services. In terms of pricing, My Room Designer AI has the most affordable plan starting at $9.99 per month.
Comparison and Analysis of AIs for Interior Design
Although all these AI tools are designed to facilitate the interior design process, each tool has unique strengths:
Goodhues AI and Home Designs AI excel in automatically generating unique ideas.
DecorAI and Pipers AI specialize in converting concepts into detailed visual representations.
Colossis io and My Room Designer AI transform existing photos through AI.
If you're looking to explore many styles, Goodhues AI and Home Designs AI are unbeatable. But if you wish to modify real photos of your spaces, the best options are Colossis io and My Room Designer AI.
Applications of AI in Interior Design
AI could revolutionize every aspect of the design of interior and exterior spaces. Some key applications include:
Generating unique design ideas based on your tastes and preferences.
Instantly creating realistic visual representations to present proposals.
Modifying existing photos through retouching and virtual rearrangement of elements.
Designing custom furniture and accessories to fit your needs.
Testing design proposals and gathering feedback before actual implementation.
The Future of AI in Interior Design
In the future, the integration between artificial intelligences and virtual reality technologies will facilitate experimentation with different designs virtually and ensure the harmony of the spaces. Undoubtedly, they will transform interior design, making it more efficient, intuitive, and people-centered.
This could benefit various sectors that require space design services, from individuals remodeling their homes to hotel chains seeking a distinctive and coherent style.