UX/UI design is a constantly evolving field. If you're a UX designer or work in the development of digital products, getting to know these Artificial Intelligences can revolutionize your workflow.
In this article, we introduce you to 6 amazing AIs that take your creative brief and turn it into ready-to-implement user interfaces. Discover how you can automate tedious tasks and generate high-quality designs, allowing you to focus on what you're most passionate about: enhancing the user experience. Let's dive into these incredible tools!
The 6 Best AI Tools for UX/UI Design
Uizard
Uizard is an AI-automated UX/UI designer. It allows you to create wireframes, prototypes, and designs ready for quick implementation from textual descriptions.
Its component library facilitates consistent design in Figma. Uizard applies AI-optimized design patterns to ensure usability in your designs.
Key Features:
AI-powered auto-designer
Extensive template library
Interaction simulation
Wireframe mode
Visual generation from text
Price: Offers a free plan, a Pro version from $12 per month, and a Business plan with priority support. Learn more about Uizard here.
Price Comparison
Prowriting AI
Prowriting AI is the ideal writing assistant for UX/UI designers using Figma. This tool employs advanced AI to analyze the visual context and generate optimized microcopy that seamlessly integrates with your designs.
Its algorithms ensure brand consistency, unified terminology, and zero grammatical errors. This makes it the fastest way to draft text for user interfaces, in both low and high fidelity prototype testing phases.
Key Features:
Figma integration.
Grammatical and spelling correction.
Terminological consistency.
Customizable writing style.
Accelerated UX writing processes.
Price: It has a monthly plan for just $15 and an annual plan with more benefits for $165. Learn all about Prowriting AI.
UX Brain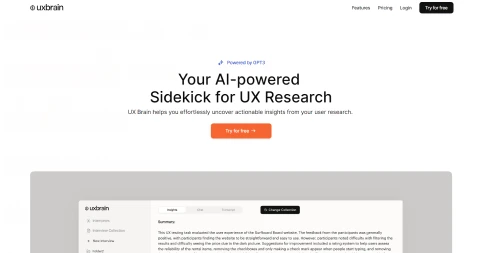 UX Brain is an AI assistant that analyzes UX research data and generates clear, actionable insights. It turns interviews, surveys, and user tests into valuable findings to improve your product.
This tool speeds up the UX research process by replacing tedious manual analysis and allows for collaboration to align findings with stakeholders.
Key Features:
Accurate transcription
Multilingual support
Contextualized collaboration
Project-level analysis
Price: Free plan and Business plan for $24/month. Learn more about UX Brain.
Galileo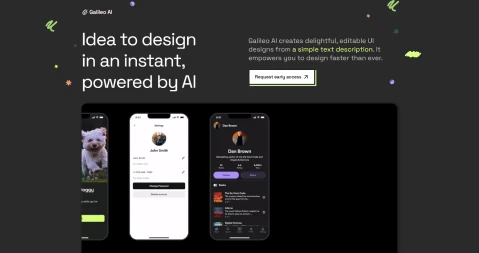 Galileo AI turns text descriptions into high-quality visual prototypes in seconds. Its technology includes a library of optimized UI components ready for implementation.
Galileo also accelerates conceptual design by allowing quick validation of multiple alternatives. Designs can be easily refined in Figma before moving to development.
Key Features:
AI-driven quick design
Full Figma compatibility
AI-generated illustrations
Automatic interface text generation
Price: Currently in beta with access upon request. Learn more about Galileo here.
Magify Design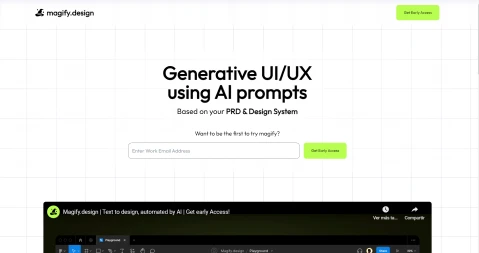 Magify Design uses machine learning algorithms to turn requirements into attractive and functional interfaces. It analyzes your requirements document and design system to then create complete UI proposals.
This tool allows UX/UI designers to explore multiple alternatives and make more informed design decisions. All in a fast and automated manner.
Key Features:
Figma integration
Voice command editing
AI-generated UX writing
Frontend code generation
Price: Currently in beta, so early access must be requested. More details about Magify Design here.
Askui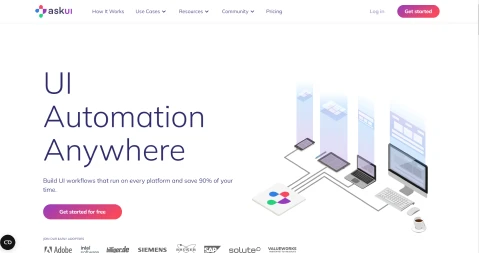 Askui automates cross-browser and cross-device software testing using computer vision algorithms. This tool simulates realistic interactions to validate flows in web, mobile, and desktop apps.
It's the ideal option for designers to validate UX/UI prototypes without coding. Easily integrates into CI/CD pipelines for execution within the development stack.
Key Features:
Cross-platform compatibility
Resolution independence
Customizable integrations
Simulation of human actions
Price: Starter plan with a 7-day free trial and customizable Enterprise plan. More information about Askui here.
Here's our comparative table with the prices of the 6 artificial intelligences for UX/UI design:
| Platform | Free Plan | Most Economical Plan |
| --- | --- | --- |
| Prowriting AI | No | $15/month |
| Uizard | Yes | $12/month |
| Galileo | In Beta | Request Access |
| Magify Design | In Beta | Request Access |
| UX Brain | Yes | $24/month |
| Askui | Free Trial | 120€/month |
How to Apply These AIs in Your UX Design Process
Artificial intelligence is transforming the field of UX/UI design. Here are some ways you can leverage these AIs to enhance your work:
Quick low-fidelity design: Use AI generators to swiftly create low-fidelity wireframes and prototypes for testing.
Agile iteration: Test multiple designs and variations generated by AI to determine what works best. A fast way to iterate!
Inspiration: AI tools can give you fresh ideas and inspiration with their creative designs.
Consistency: Maintain visual and textual coherence by using artificial intelligence to automatically generate user interface elements that align with your style guide.
The Future of AI and UX/UI Design
Artificial intelligence will play an increasingly important role in the design of digital products in the coming years. AI tools are expected to become key collaborators for designers and developers, automating heavy tasks so humans can focus on more strategic work.
These technologies could enable smaller teams to create high-quality digital products quickly and affordably. Even new industries lacking UX design experience could start creating excellent user experiences thanks to the power of these AIs.