Artificial intelligence is transforming the way we work with data and automate tasks. In the case of Excel and spreadsheets, AI tools offer incredible features that help us be more productive.
In this article, we will explore the 11 best Artificial Intelligence tools for Excel and spreadsheets that every professional should know in 2023. We will discover their features, prices, and how we can leverage these platforms to optimize our workflows. Let's get started!
The 11 Best AI Tools for Excel and Spreadsheets
Sheet Plus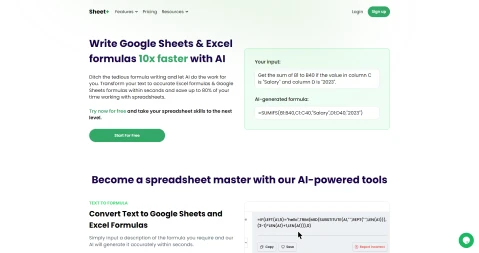 Sheet Plus is a platform that uses AI to facilitate the writing of formulas in Google Sheets and Excel. With this tool, you can transform text instructions into precise formulas in seconds, saving up to 80% of your time.
Sheet Plus allows you to generate complex formulas quickly, offers detailed explanations of each formula, and will soon launch integrations with Google Sheets and Excel for a smoother experience.
Price: Sheet Plus has free plans, PRO for $5.99 per month, and PRO annually for $51.99 per year. Learn more about Sheet Plus here.
Formula Generator
Formula Generator is an AI tool that facilitates the creation and explanation of formulas for spreadsheets, code generation, and more. It features functions such as formula generator, formula explainer, SQL code generator, and AI answer bot.
This platform is designed to offer a complete and versatile experience in working with data and spreadsheets.
Price: Formula Generator has a free version and a paid version without limitations. Learn more about Formula Generator here.
Flowshot
Flowshot is an AI extension for Google Sheets that allows you to autocomplete tasks, generate formulas and images, and build AI models without code. It integrates seamlessly into Sheets to enhance efficiency and creativity.
This tool allows you to train custom AI models and integrates with Zapier and offers an API solution to connect with other apps.
Price: Flowshot ranges from plans from $9 to $379 per month. Learn more about Flowshot here.
GPT Workspace
GPT Workspace integrates the power of ChatGPT and Bard AI into Google Workspace. It allows you to generate content, translate, create presentations, and more in apps like Docs, Sheets, Slides, Drive, and Gmail.
It offers unique features such as slide generation, email customization, document summarization, and high-quality text creation. GPT Workspace is designed to maximize your productivity.
Price: GPT Workspace has free plans, Premium for $9 per month, and Team for $15 per user per month. Learn more about GPT Workspace here.
Ajelix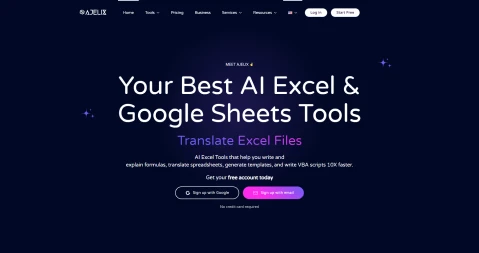 Ajelix is a powerful AI tool that offers formula generators, script explainers, and file translators for Excel and Google Sheets. With Ajelix, you can generate, understand, and translate formulas and scripts to optimize your work.
Ajelix allows you to create formulas and interpret complex codes in seconds. It is a comprehensive solution for handling spreadsheets efficiently.
Price: This tool has free plans, Premium for $5.95 per month, and Business with volume discounts. Learn more about Ajelix here.
Excelly AI
Excelly AI converts text instructions into formulas for Excel and Google Sheets. It is compatible with Excel, Sheets, VBA, and allows you to generate, explain, and transform any formula with precision.
Additionally, this platform allows you to upload your own .xlsx files to generate custom formulas and integrates with Slack to optimize teamwork.
Price: Excelly AI has plans from $4.99 to $9.99 per month, with a free version of 5 formulas per month. Learn more about Excelly AI here.
Formularizer
Formularizer is an AI assistant that converts ideas into formulas. It is compatible with Excel, Google Sheets, and Notion. It allows you to generate and explain any formula, regular expression, or Excel VBA script.
Formularizer is designed to be super friendly and guide you step by step in creating your formulas. It definitely simplifies working with data.
Price: Formularizer has a free plan and a Pro plan for only $4.99 per month. Learn more about Formularizer here.
Formula Bot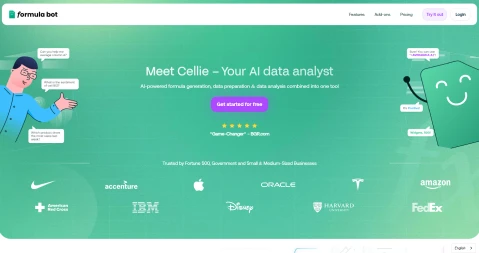 Formula Bot combines formula generation, data preparation, and analysis in a single AI-powered platform. It is a powerful all-in-one tool for working with spreadsheets and databases efficiently.
Price: Formula Bot has a free plan and a Premium plan of $6.99 per month. Learn more about Formula Bot here.
Numerous AI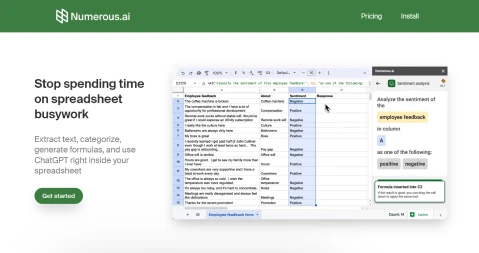 Numerous AI integrates ChatGPT into Google Sheets and Excel, allowing AI conversations, formula generation, data analysis, summaries, and more. Enhancing your spreadsheet experience.
It is a comprehensive solution that automates tasks, improves efficiency, and allows you to explore new ways of working with data.
Price: Numerous AI has Individual, Professional, and Business plans from $10 to $120 per month. Learn more about Numerous AI here.
Parseur
Parseur is a powerful data extraction tool that automates the input of information from all types of documents, emails, and spreadsheets.
It allows you to customize extraction according to your needs and has integrations like Google Sheets and Zapier.
Price: Parseur has a free plan and subscription plans from 100 credits per month. Learn more about Parseur here.
SheetAI App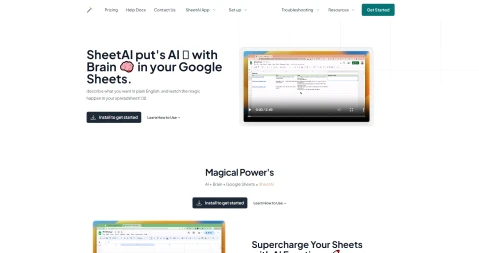 SheetAI App brings the power of AI to your Google spreadsheets. It allows AI conversations, list generation, translations, table creation, and more.
It is a complete add-on that will help you get the most out of Google Sheets efficiently.
Price: SheetAI App has a free plan and Premium annual plans for $279. Learn more about SheetAI App here.
Comparison between AI Tools for Excel and Spreadsheets
Although all these AI tools are designed to facilitate work in Excel and spreadsheets, each one has a unique focus and features:
Sheet Plus, Formula Generator, and Flowshot focus on generation and explanation of formulas.
GPT Workspace, Numerous AI, and SheetAI App allow natural language conversations.
Parseur and Excelly AI are specialists in data extraction.
Ajelix, Formularizer, and Formula Bot are excellent generating both formulas and scripts.
In terms of pricing, most have affordable plans between $5 and $10 dollars per month on average. The most economical are Sheet Plus, Excelly AI, and Formularizer.
Practical Applications of these Tools
AI tools for Excel and spreadsheets have multiple practical applications in various industries:
Finance: for analyzing data, creating financial models, and generating automated reports.
Banking: for processing and extracting data from account statements and documents.
Accounting: for generating complex accounting reports.
Human Resources: for extracting payroll data and processing employee information.
Logistics: for generating inventory reports, delivery routes, and more.
Sales and Marketing: for automating sales and campaign reports.
The Future of AI in Spreadsheets
In the future, we are likely to see a greater integration of Artificial Intelligence assistants in Excel and Google Sheets. We will have more conversational tools, precise, and industry-specialized AI models.
Therefore, partially or completely eliminating many manual tasks will allow us to focus on more strategic and creative projects. This will have a positive impact on the productivity of companies of all types.
Without a doubt, these tools will revolutionize the way we understand and work with data. Excel and spreadsheets have a bright future thanks to AI.