For those who love beach vacations, sunny days and warm climates, Southern Italy is perfect for visiting during your stay in this beautiful country. Here you can enjoy a friendly culture, good food and excellent beaches. Here are the best places to visit in southern Italy that no traveler should miss.
Naples
Highlights
Spaccanapoli
Capella Sansevero
Plebiscito Square
Catacombs of San Gennaro
Cimitero delle Fontanelle
Naples Sotterranea
Visitors to Naples will notice how the famous Margherita pizza and spaghetti Napoli are among the most representative foods of the city. Naples is a charming city that stands out from the rest for being very lively and an excellent choice for strolling and exploring its beautiful streets.
Be sure to visit the city's underground by taking a tour of sites such as the Catacombs.
Naples hotel suggestion: Hotel Nova Relais (beautifully renovated old building, tastefully furnished).
Amalfi Coast
Highlights
Amalfi
Atrani
Vietri and Ravello
Hiking along the "Path of the Gods
Positano
Praiano
Among the best places to visit in Italy is the Amalfi Coast. Here you will find the perfect mix of sightseeing, excellent food and many sporting activities. If you wish you can start your trip by car from Naples and drive south, this way you can enjoy beautiful villages and magnificent landscapes hidden among the Italian road.
Tip: You can plan your trip out of the high season. It will allow you to save money and avoid crowds as the weather on the Amalfi Coast is very pleasant from spring to autumn.
Amalfi Coast hotel suggestion in San Lazarro: Agriturismo Orrido di Pino (idyllic, located in the countryside, good starting point for hiking).
Tropea
Highlights
Santa Maria dell'Isola di Tropea
Old town of Tropea
Corso Vittorio Emmanuele Promenade
Acquamarina Beach
Mare di Tropea
If you can't ignore the sun and beach activities on your trip to Italy, stop in Tropea and enjoy the beautiful coastline! Located on the Mediterranean Sea, it boasts some world-class beaches and is one of Italy's most popular seaside spots.
On the seashore, there are attractions like the famous church of Santa Maria dell'Isola di Tropea and if you love unique architecture, the entire old town of Tropea is set on a rock.
Tropea hotel tip: Don Carlo Tropea (very modern and well-located hotel).
Apulia
Highlights
Gargano National Park
Monte Castle
Basilica of St. Nicholas
Cave of Castellana
Alberobello
Lecce
Monopoli
In the south of Italy, you can also discover Apulia. In this charming region, you can't miss the Gargano National Park, where you can explore gigantic pine forests and natural beaches. You will also find many rivers and turquoise blue seascapes.
In the hinterland of Apulia, you can immerse yourself in picturesque villages, where you will find the "trullis," the traditional round houses with pointed peaks.
Tip: It is advisable to explore this region of Italy by car as they are more affordable by road.
Advice about hotels in Apulia, near Bari: Hotel Tenuta Gentile (very modern rooms, excellent location, good value for money)
Lecce
Highlights
Basilica of Santa Croce
Sant'Oronzo Square
Carlo V Castle
Lecce Cathedral
Amphitheater
If you plan to travel to the Puglia region, visit a city called Lecce. The city has beautiful buildings that were made from baroque-style architecture, making it a great place to stay in southern Italy if you enjoy learning about history and architecture. One of the highlights of the city is the Roman amphitheater.
Lecce Hotel tip: Suite Hotel Santa Chiara (great location, good value for money)
Alberobello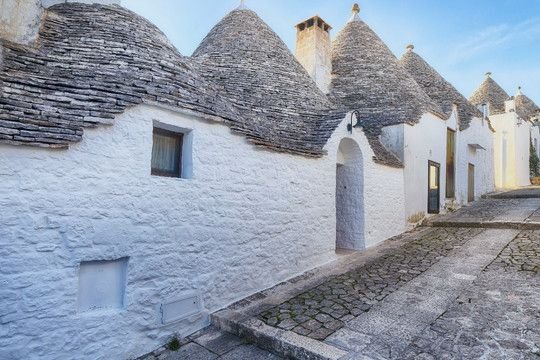 Highlights
Trullo Sovrano
Belvedere Santa Lucia
Museum of the territory "Casa Pezzolla
Church of St. Anthony of Padua
D'Amor House
Alberobello is one of the most interesting places to visit in southern Italy. Well-known Trullo neighborhoods (round houses with cone-shaped stone roofs) are a point of reference in the Italian region. Alberobello is also an excellent starting point for excursions in the hinterland.
Suggested hotel in Alberobello: Hotel Dimora Sumerano (How about a traditional Trulli for accommodation?).
You may also be interested in: