Northern Italy is one of the most popular tourist destinations in Italy. Its proximity to countries such as Germany and Austria, as well as the excellent accessibility by car, make Northern Italy one of the best places to visit on vacation. In this article, we will talk about tourist favorite destinations, where you will find mountain scenery, outdoor activities and charming villages.
Dolomites
Highlights
Three peaks
Braies Lake
Alpe di Siusi
Lake Carezza
Lake Misurina
Merano
You can find the Dolomites in northern Italy, a mountain range and highly recommended tourist destination. People who enjoy outdoor activities, nature and wellness tend to love the Dolomites.
Besides significant hiking areas like Eggental or Alpe di Siusi, you must discover the most beautiful mountain lake in South Tyrol, the Pragser Wildsee. The cities of Bolzano and Merano are also worth a visit and are perfect for a day trip by bus from the nearby Italian cities of Trento and Bologna.
Suggested lodging in Eggental: Sporthotel Alpenrose (Excellent hotel in an unbeatable location, perfect for active tourists and those seeking tranquility).
Another option could be the Hotel Santner Alpine Sport & Relax (A spectacular 4-star hotel).
Lake Garda
Highlights
Sirmione Castle
Riva del Garda
Monte Baldo
Malcesine
Bardolino
Lazise
Lake Garda is one of the most popular places in Northern Italy and is often visited by Germans and Austrians, so here you will find a great cultural variety. This is one of the favorite destinations for those who are looking for outdoor activities or just looking for fun. The beautiful landscapes and the palm trees that grow here help to create a pleasant and relaxing feeling.
Lake Garda, the northern part near Riva del Garda, has a substantial mountainous landscape to explore with Monte Baldo and Malcesine at its feet. In the southern region, you will find a more Italian influence. This is why we recommend you visit the peninsula of Sirmione. Here is a castle that is worth seeing, as it is historically significant.
Suggested accommodation in Riva del Garda: Lake Front Hotel Mirage (with swimming pool, located directly on the lake).
Lake Como
Highlights
Como and its cathedral
Bellagio
Varenna
Menaggio
Piona Abbey
Villa Olmo
Como – Brunate mountain railroad
Lake Como is a popular destination in Italy, as it offers many activities and breathtaking places, such as the lakeside villas of Bellagio and Varenna, which are almost impossible not to visit.
Suggested accommodation in Como: Chalet Del Tiglio (All rooms have flat screen TV and private bathroom)
Verona
Highlights
Verona Arena
Piazza Bra
Juliet's House/Balcony (Shakespeare)
Piazza Delle Erbe with the Lamberti Tower
Giulietta's House
Square of the Lords
Verona is a beautiful city in northern Italy that preserves in excellent condition. It's an old Roman town and offers many places for visitors to enjoy the city. Verona is close to Lake Garda, making it perfect for combining an exploring or beach vacation on Lake Garda. In addition to the tourist attractions that can be discovered in the city, Verona is the setting for the famous lovers Romeo and Juliet.
Suggested accommodation in Verona: Hotel Mastino (Located in the center of Verona, excellent starting point for sightseeing, the hotel has a parking lot)
Venice
Highlights
St. Mark's Basilica
Rialto Bridge
Doge's Palace
Grand Canal
Bridge of Sighs
Venice is one of the most famous cities in Northern Italy and is considered a must-see destination. The city is spread over more than 100 islands in the Adriatic Sea, so everything here takes place on the water. Venice is home to some of Europe's most famous monuments and is a significant attraction when visiting Italy. One of the most representative places is St. Mark's Basilica, so you can't miss seeing this place.
Suggested Venice lodging: Porta da mar (Perfectly located in the center of Venice)
Milan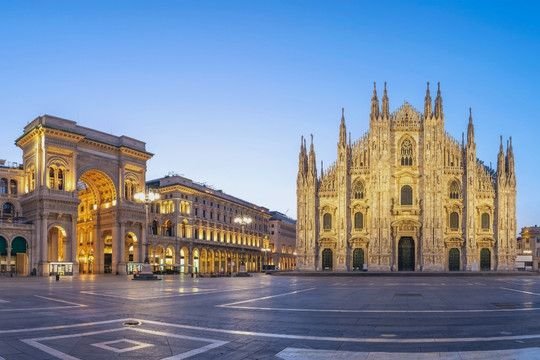 Highlights
Milan Cathedral
Vittorio Emanuele II Gallery
Sforzesco Castle
Milan's financial center
Milan is Italy's second-largest city and an incredible destination for fashion enthusiasts and history buffs. Here you will find a variety of museums and historic buildings. Milan is also a shopping hotspot with dozens of stores of all sizes and styles. Milan is a place not to be missed if you visit the north of Italy.
Suggested accommodation in Milan: B&B Hotel Milano Sant'Ambrogio (an ideal location for exploring the city).
Cinque Terre
Highlights
Vernazza Castle
Monterosso Beach
Corniglia
Church of Santa Margherita d'Antioch
Sentiero Azzurro Hiking Trail
The picturesque town of Cinque Terre is located on the shore of a coastline on the Italian Riviera. It is composed of five coastal towns jutting out over the Greek Sea. Miniature, colorful houses are perched on the cliffs, making it a beautiful place to explore. You can take a quick walk to one of the many port towns or visit some of the best beaches along the way.
Cinque Terre lodging suggestion: Alchimia di Mare (modern rooms with an excellent location).
You may also be interested in: