Central Italy is home to many tourist sites to visit! Rome, Florence and Tuscany offer exciting activities and breathtaking scenery. If you have more time or are planning a more extended road trip, central Italy is easily accessible by car, at least from Germany or Austria. In this article, we will tell you about the outstanding destinations in central Italy and why you can't miss them.
Tuscany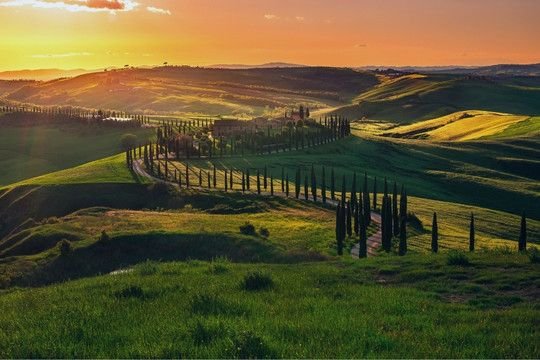 Highlights
Leaning Tower of Pisa
Florence
Lucca
Chianti wine region
Siena
San Gimignano
Val d'Orcia
Saturnia Thermal Baths
Tuscany is one of the most beautiful places in central Italy if you want a truly wonderful vacation destination full of culture and fantastic food. Tuscany is an exciting city that brings with it many things to see and do.
A must-see is the Leaning Tower of Pisa. Other sites worth visiting are Saturnia's baths and the Galgano monastery in Siena. If you are looking for breathtaking landscapes, fabulous cities and things to see, Tuscany awaits you.
Suggested accommodation in Tuscany: Castello di Leonina
Florence
Highlights
Florence Cathedral
Santa Croce
Ponte Vecchio
Piazza della Signoria and Palazzo Vecchio
Piazzale Michelangelo
Pitti Palace
Uffizi Gallery
Florence is the capital of Tuscany, a region renowned for its beautiful Renaissance architecture and art. The city is famous for the hidden treasures that brim its buildings and has been featured in many articles you may have read about fascinating historical destinations. The highlight of Florence is its Duomo, an excellent example of Italian architecture.
You can explore many architectural wonders in Florence, such as the Piazzale Michelangelo and the numerous piazzas.
Suggested accommodation in Florence: Hotel Pitti Palace al Ponte Vecchio
Pisa and Lucca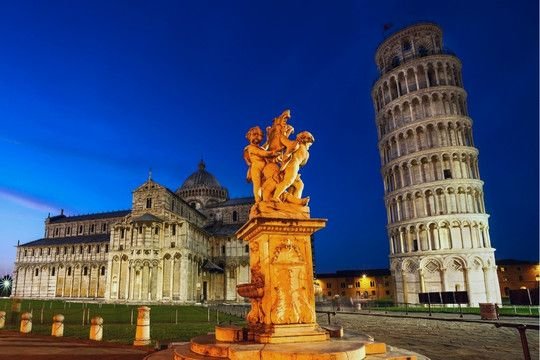 Highlights
Leaning Tower of Pisa near LuccaPisa
Highlights
Tower of Pisa slate
Piazza Dei Miracoli
Cathedral of Santa Maria Assunta
City Walls
Delle Ore Tower and Giungi Tower
Amphitheater Square
Garfagnana Mountains
While Pisa is usually visited for the Leaning Tower of Pisa, the city of Lucca has many beautiful corners. Compared to many other Italian cities, Lucca is credited with having a Renaissance city wall and a beautiful, perfectly preserved old town that can be explored on foot or by bicycle.
Although Pisa is a beautiful city, Lucca is the destination you should choose to stay in. It is only an hour and a half from Pisa, so we recommend you book your hotel in Lucca and take a day trip to Pisa.
If you feel like a good hike, we recommend you to visit the Garfagnana Mountains up to Monte Forato.
Suggested accommodation in Lucca: B&B Villa Anna
Province of Siena
Highlights
Siena Cathedral
Piazza del Campo
Palazzo Pubblico
San Gimignano
Chianti
Val d'Orcia
Traveling to Siena is a great idea. The city is surrounded by tranquil vineyards and beautiful avenues of cypress trees in the Val d'Orcia region, which is quite close to Chianti, an iconic wine region of northern Italy.
The highlight of Siena is the historic city center, a UNESCO World Heritage Site. Other places to visit in Siena such as the Piazza del Campo or the Palazzo di Pubblico.
Suggested accommodation in Siena: Castello di Leonina
San Marino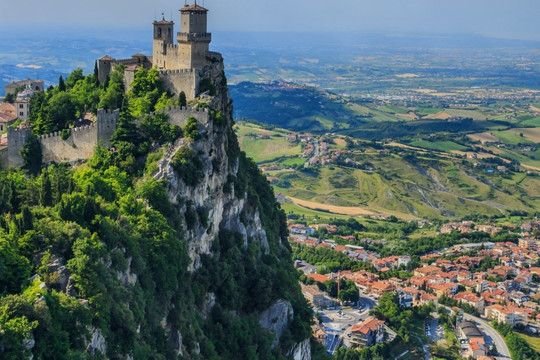 Highlights
Siena Cathedral
Piazza del Campo
Palazzo Pubblico
San Gimignano
Chianti
Val d'Orcia
San Marino is not just any town but a unique destination in central Italy. It is a dwarf state and the oldest republic in the world. The main points of interest are the three towers that started being built in the 11th century.
You can visit the Borgo Maggiore district by walking along the fortress wall from one of the towers to another. You may also want to see Monte Titano, which is a bit further away but will be worth it for its excellent view.
Suggested lodging in San Marino: Hotel Titano
Rome
Highlights
Vatican City
Colosseum and Ancient Rome
Pantheon
Trevi Fountain
Spanish Steps
Catacombs
Rome is another favorite place for travelers visiting central Italy. It has so many different things to do and such a rich history that you should plan several days here to experience all it has to offer.
Most of the city has excellent places to see, but the ones you can't miss are the Trevi Fountain, the Vatican and St. Peter's Basilica.
Culinary delights abound in every corner of the Italian capital; You will find pizza, pasta and probably the best gelato in the world.
Suggested lodging in Rome: Hotel Roma Vaticano
You may also be interested in: