Reykjavik, the Icelandic capital, undoubtedly deserves to be a mandatory stop to explore this beautiful city, full of history and beautiful places. In this article we will show you the best selection of places to visit, tips and a map for the tour.
If you are planning a road trip in Iceland, you can see our article 10 days touring Iceland by car (with budget, activities and tips).
All other articles about Iceland can be found here.
The best places to visit in Reykjavik
The main places of interest in Reykjavik are easily accessible and you can reach them on foot, by bus and by car. To explore Reykjavík, you should spend about 1 day and if you plan to visit the surrounding area you should reserve 2 to 3 days. Taking into account that your flight will land in Reykjavik, you can plan your itinerary to enjoy the place when you arrive in Iceland or before you leave.
Hallgrímskirkja Church
Hours: daily from 9:00 a.m. to 5:00 p.m., closed during Sunday mass.
Entrance fee: the church is free, the tower costs 1000 ISK (7 Dollars approximately).
The church of Hallgrímskirkja is the landmark of Reykjavik, it is located in the center of the city and stands out for having a height of 74.5 m, making it the second tallest building in Iceland. The most interesting aspect of this Lutheran parish is its architecture. The building was designed in 1937, construction began in 1945 after the World War and the church was completely finished in 1986. In front of Hallgrímskirkja is a statue of Leif Erikson, the Icelandic explorer credited with the discovery of North America.
The visit to the interior of the church is free, however, the visit to the church tower costs about $ 7, from where you have a beautiful view of the city.
Fun fact: In Icelandic kirkja means church. So all buildings with kirkja at the end are churches.
Harpa concert and conference center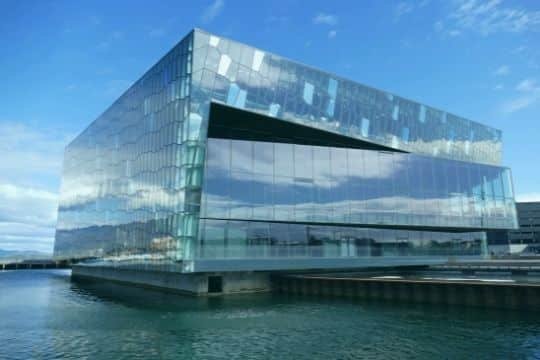 Opening hours: 8:00 – 24:00
Ticket sales: 12:00-18:00 (may vary)
Entrance fee: free if you visit only the foyer.
Harpa is Reykjavík's Concert and Conference Center, located near the harbor, is one of Reykjavík's most modern buildings and one of Reykjavík's main tourist attractions. Especially at night, when it glows with color. You can stop by and admire the architecture, or take a look at the program, as the best concerts, festivals and fairs are held in this building (more info).
You can visit the lobby for free and see the modern building from the inside. The building's lighting can be controlled by computer and has also been used at various events to interact with visitors. For example, you can play ping-pong on the LED panels via your smartphone.
Sun Voyager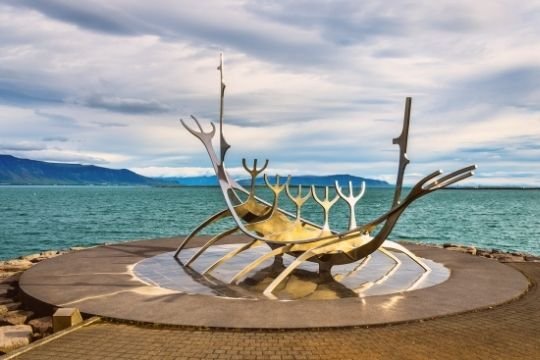 Sun Voyager is a sculpture located on the coastal road in Reykjavik, not far from the Harpa concert center. The sculpture was made to commemorate Reykjavik's 200th anniversary and depicts the skeleton of a Viking ship. The Sun Voyager is an ideal place to photograph the sunset or the Northern Lights.
Stroll through the city center and Thingholtin district.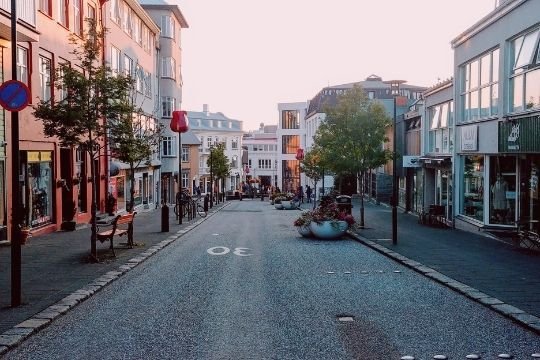 Not far from Hallgrímskirkja is the nice little center of Reykjavík. Here you will find many graffitied houses, colorful streets and the shopping area of Reykjavík is in the Thingholtin neighborhood. Here you can find mainly Icelandic clothing brands, but also several Nordic brands. If you want to buy souvenirs this is the perfect place, you will find them everywhere.
Gróttuviti Lighthouse
In Reykjavík, you will find the Gróttuviti lighthouse in the old harbor (near Harpa). Gróttuviti is worth a visit, especially if you want to photograph the Northern Lights. Gróttuviti lighthouse is also home to many bird breeding areas. You can usually walk to the lighthouse, except during the bird breeding season (May and June) or during events with bad weather or high tide.
Northern Lights tip: Gróttuviti is the best place in Reykjavík to photograph the Northern Lights (September to April), as there is less light pollution here.
Perlan
Opening times: 10:00 – 18:00
Prices: Perlan – Wonders of Iceland and Áróra Northern Lights Show ($37) more info here.
In Perlan, you will find many activities to do, you can visit the planetarium, a reconstructed ice cave and a Northern Lights show that looks very real. You can also learn a lot about geothermal springs and volcanoes. In addition, on the top floor of the building there is a cafeteria and a restaurant with a great view of the city.
Places to visit around Reykjavík
If you have more time in Reykjavik, here are some of the most interesting places around the capital.
Kópavogur
Gerðarsafn Art Museum
Opening times: 10:00 – 17:00
Admission fee: 1000 ISK (7 dollars approximately)
Kópavogur is a town that borders Reykjavík to the south and can be included in a visit to Reykjavík. Here you will find the Gerðarsafn Art Museum, a place not to be missed if you want to immerse yourself in Icelandic art and culture.
If you enjoy architecture we recommend a visit to the Kópavogskirkja Church in Kópavogur. From here you can enjoy an aurora borealis show, as the place has low light pollution.
Blue Lagoon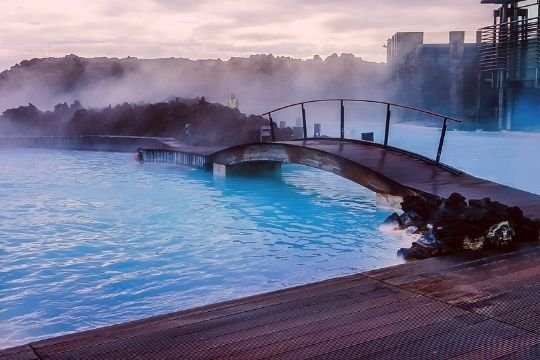 Hours: 10.00 – 20.00, may vary according to season.
Entrance fee: depending on the package, from $43.00 (more info)
The Blue Lagoon is a must if you visit Iceland, is located about 45 minutes drive from Reykjavik and is one of the main tourist attractions of the island. This open-air geothermal pool is turquoise blue in color and was created by the nearby Svartsengi geothermal power plant, which uses volcanic energy.
Outside the blue lagoon facilities are outdoor pools and steam cabins, inside the facilities are changing rooms and showers. A particularity of the place is that it does not have spaces to rest, you literally take a shower, put on your bathing suit and go to the pools or to the steam cabins and salts.
Therefore, the duration of the stay is usually about 2 hours. Tickets must be booked in advance, as they sometimes sell out weeks in advance. Book your tickets with transport from Reykjavik here.
Golden Circle Iceland
If you only have a few days in Iceland, it is recommended to visit the Golden Circle from Reykjavik. The Golden Circle allows you to experience all the natural phenomena Iceland has to offer in one day, but in a lighter way. You will find a volcanic crater, a thundering waterfall, the largest geyser and geothermal springs.
You can find more information in our article "Golden Circle Iceland, tourist places to visit, with map and tips".
Seljalandsfoss and Skógafoss waterfalls.
Opening hours: 11:00 – 16:00
Admission: 2000 ISK (14 USD approx.)
Although the two waterfalls are quite far from Reykjavik, this destination is simply beautiful not to visit.
Seljalandsfoss waterfall is located approximately 1 hour and 40 minutes from Reykjavik and is one of the best places in Iceland. The particularity of this waterfall is that you can walk behind it, although you will clearly get quite wet.
If you are interested in Icelandic history and life in Iceland in the past, this is the place to be. It is located east of Seljalandsfoss and not far from the museum is the magnificent Skógafoss waterfall, which is also one of the most beautiful waterfalls in Iceland.
If you don't have a rental car, you can also book an organized tour to Seljalandsfoss, Skógafoss and even the Sólheimajökull glacier (more information).
If you have a rental car and a few days in Iceland, you are definitely in for a lot of beautiful scenery to visit. Here is our article "Tour of Iceland by car (with route, tips and costs)".
Map of Iceland with the main places to visit in Reykjavík
To help you plan your visit to Reykjavik, we have created an interactive map of Iceland with all the places of interest. With this map you can easily navigate in and around the city to discover the highlights.
If you want to save the map you can share it on social networks or save it by clicking on the star at the top of the map.
Program and tips for 3 or 4 days in Iceland
Arrival in Reykjavik and check in at the hotel.
Walk through the city center
Hallgrímskirkja
Visit to Harpa and Sun Voyager
Gróttuviti lighthouse
In the evening: Visit Harpa again when it is illuminated.
Northern Lights observation (September-April)
Perlan
Kópavogur
Afternoon/evening: Blue Lagoon
Northern Lights observation (September-April)
Explore the Golden Circle
Day 4 Excursion to Seljalandsfoss and Skógafoss Waterfalls
Travel time from Reykjavík: 1 hour 40 min.
Seljalandsfoss and Skógafoss
Local museum Skógar
Tip: If you are doing the Golden Circle, you can also spend the night in the south (e.g. Selfoss) and save time by car.
Best time to travel to Reykjavík
In recent years, Iceland has become a tourist destination to visit all year round, depending on the season, Iceland will offer you characteristic activities to do on the island. However, we recommend traveling during late spring, summer or early autumn. Here are some recommended dates.
During spring through March and April, you may still have the opportunity to see a Northern Lights show, however, keep in mind that it is still very cold and you will encounter a lot of snow.
Between May and June you will find a mix of climates, some days it may snow and on others it will be sunny, because during this time there is a change between spring and summer seasons. Once in summer the days of frost are over, flowers start to bloom everywhere and in April the season of puffins, the typical bird of Iceland, begins.
Between May 20 and July 20, the days in Iceland are especially long (midnight sun), as the sun does not set at this time. For photographers, this is an absolute dream.
Midsummer is the high season in Iceland. Accommodation is especially expensive and often fully booked. But at the same time, the weather is the best.
For us, the best season is September and October. The days get shorter from September onwards, the hours-long sunsets are gone and the northern lights season begins and the best thing is that the temperatures are still quite warm.
You may also be interested in: