When it comes to touring Iceland by car, probably the best known route is the Ring Road. This ring-shaped road surrounds the island and has an extension of 1,332 kilometers, an adventure for those who have the opportunity to travel around Iceland on their own, in a rental car. In this article we will talk about the routes, tips and budget, to travel for 10 days in Iceland.
Map and itinerary of travel around Iceland by car
To take advantage of the information and map, we recommend you to save it. You can share it on social networks or save it by clicking on the star at the top of the map.
Stages of the road trip:
Reykjavik (1 night)
Snaefellsnes peninsula (1 night)
Akureyri (1 night)
Myvatn (1 night)
Seydisfjördur (1 night)
Jökulsárlón (1 night)
Selfoss (2 nights)
Solheimar (1 night)
Below you will find an itinerary that will allow you to easily plan your road trip in Iceland.
Planning a road trip: itinerary and tips for 10 days by car.
Here is again the approximate itinerary for 10 days in Iceland:
1 day in Reykjavik
1 day in Snaefellsnes peninsula (bypass road detours)
7 days Ring Road (Ring Road)
1 day Highland in the north (detours from the Ring Road on the last day)
Day 1 – Arrival
Pick up rental car at the airport
Discover Reykjavik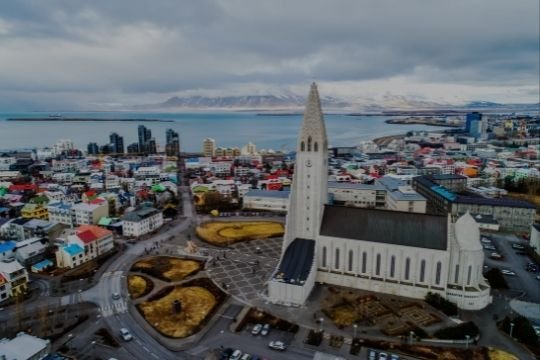 Main street Laugavegur
Harpa Concert Hall
Sun Voyager Sculpture
Accommodation in Reykjavik
Hotel Klettur* (relatively inexpensive, despite its central location)
For more information, see our article on visiting Reykjavík.
Day 2 – Reykjavík – Snaefellsnes Peninsula (2h)
Ytri Tunga beach: A beautiful beach where you can observe grey seals.
Búðakirkja: A black church in the middle of nowhere.
Raudfeldsgjá Canyon: From the road, this canyon looks rather inconspicuous, but it's worth a short walk from the parking lot to get to it. You can also enter the canyon and follow the river.
Lóndrangar: A cliff with a beautiful view and lots of birds.
Saxhóll Crater: An ancient crater that can be climbed by stairs. Not very spectacular, but still cool to think that this volcano once spewed lava.
Skardsvík beach: A small and beautiful black sand beach.
Svodufoss: A beautiful waterfall that is still not very well known.
Ólafsvík: The next largest town. Here you can also watch whales (all year round) and killer whales (from March to July) on an excursion.
Restaurant tip: Hraun Veitingahus.
Alternative: Near Reykjavik is the Þingvellir (or Thingvellir) National Park. Here you can snorkel in the Silfra rift.
Accommodation in Kirkjufell
Grasteinn (nice little AirBnB in the middle of nature, made of wood)
Day 3 – Snaefellsnes Peninsula – Akureyri (5h)
Kolugljúfur Canyon: It is a bit off the beaten track, but worth a visit. A beautiful canyon with waterfalls.
Hauganes: A small and cozy fishing village with good restaurants. From here you can also go on whale watching excursions.
Akureyri
Akureyri Accommodation
Rjupa Guesthouse (cheap, very cozy, on a farm)
Day 4 – Akureyri – Mývatn (2h)
Godafoss: Huge semicircular waterfall
Húsavík: Whale and puffin watching by boat (99% chance, 2,5 hours excursion, provider: Gentle Giants Whale Watching, more info here.
Tip: Delicious pancakes can be found in the cafeteria next to the service provider's office.
Námafjall: geothermal area and red mountain scenery.
Mývatn Natural Baths: Great alternative to the crowded Blue Lagoon, natural hot springs/turquoise pool (with entrance fee).
For more information about Mývatn and the surrounding area, read our article on Iceland's tourist attractions.
Accommodation in Myvatn
Sel Hotel Myvatn (good value for money)
Day 5 – East Iceland: Myvatn – Seydisfjordur (3h)
Stop: Hike to Studlagil Canyon (4 km) with basalt columns and turquoise waters, allow at least 3 hours.
Continue to the East Fjords
Seydisfjordur: Rainbow Road with a church at the end of the road.
Tip: At the end of the road of the Alfan Hotel you will find very good food.
For more information about Studlagil Gorge, you can read our article about Iceland's tourist attractions.
Accommodation in Seydisfjordur
Vid Lónid Guesthouse (very good value for money)
Day 6 – Southeast Iceland: Seydisfjördur – Jökulsárlón (4,5h)
The glacial lagoon of Jökulsárlón and the diamond beach: You can book a boat trip on the glacial lake or walk to the viewpoint "above Jökulsárlón".
Alternative: Guided glacier walk (more info) or guided walk to the ice cave (more info)
You can read our article on Iceland's tourist attractions, for more information on Jökulsárlón.
Accommodation in Jökulsárlón
Adventure Hotel Hof (hotels are scarce and quite expensive in this area).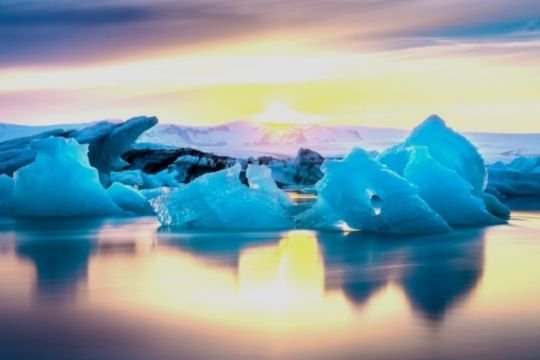 Day 7 – South coast: Jökulsárlón – Selfoss (approx. 3.5 hours)
Fjadrárgljúfur Canyon: river canyon with hiking route and panoramic views.
The city of Vík and the black sand beach.
Dyrhólaey: small peninsula with a beautiful view, rocky arch near the coast, puffins can be seen here.
Skógafoss: 60-meter high waterfall on a steep rock face, one of the most famous waterfalls in Iceland.
Arrival at the Arabian horse farm
Accommodation in Selfoss
Arabaer vacation house (horse farm)
Day 8 – Horse farm and riding with Icelandic horses
3-hour horseback ride to a black sand beach (there are rides for beginners and advanced riders)
Afternoon: Seljalandsfoss waterfall (you can walk behind the waterfall)
Tip: Hidden a few meters away is another really beautiful waterfall. For this you have to cross the crevasse.
Accommodation in Selfoss
Vacation home Arabær (horse farm)
Day 9 – Golden Circle
In the Golden Circle you will find quite a few places to visit. This is usually the travel route that everyone follows whenever they visit Iceland for short periods of time or during a stopover in the country. If you have already toured the Golden Circle, you can skip it and spend more time elsewhere.
Highlights of 1 day in the Golden Circle:
Þingvellir National Park: spectacular rocky landscape, lakes and high ridges.
Brúarfoss: turquoise waterfall.
Haukadalur geothermal area: geysers, hot springs and bubbling mud pools.
Gullfoss: Waterfall
Secret Lagoon: Natural hot springs (very popular)
Kerid Lake
You can read our article about the tourist places of the Golden Circle, for more information.
Solheimar Accommodation
Brekkugerdi Guesthouse (good starting point for touring the highlands)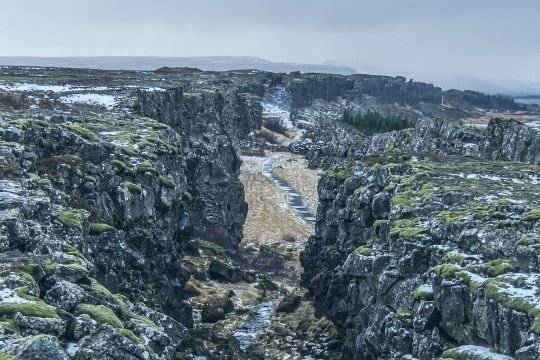 Day 10 – Highland Tour (5 hours round trip from Solheimar to Kerlingarfjöll)
IMPORTANT: For the Highlands tour, a four-wheel drive vehicle is mandatory.
Kerlingarfjoll: geothermal area that looks like a place from another planet.
Return to Reykjavík.
Departure.
Alternative: You can schedule a guided tour to the Highlands and the Golden Circle from Reykjavík (more information).
Budget for 10 days round trip in Iceland
Visiting Iceland is not cheap, but the cost is not as high as it seems, bearing in mind that you will be touring the island on your own. Here is a 10-day budget for visiting Iceland, visiting the places mentioned above.
Of course, there can be a big price difference between flights, accommodation and car rental depending on the season in which you visit Iceland. However, this quote was based on a visit made in high season (summer). The price of renting a car varies considerably depending on whether you want to travel to the highlands on your trip to Iceland and whether you need a four-wheel drive vehicle or not.
| | |
| --- | --- |
| | Prices per person |
| Flight (direct flight Madrid – Reykjavik) | 400$ |
| Rental car (10 days) | 900$ |
| Hotels (10 nights, medium price level) | 450$ |
| FIXED COSTS: 10 days round trip in Iceland | 1750$ |
| Remaining costs (food, fuel, excursions, etc.) | 400$ |
| TOTAL COST: 10-day tour of Iceland | 2150$ |
Tips for your visit to Iceland
Bring warm clothes, even in summer.
Do not spend too much time in Reykjavík.
If you want to go to the highlands of Iceland, you need a four-wheel drive vehicle (higher price).
Be sure to rent a car with comprehensive insurance and liability.
At Seljalandsfoss waterfall, go through the crevice, behind which there is another beautiful waterfall.
Mývatn natural baths instead of Blue Lagoon or Secret Lagoon.
You can avoid the Golden Circle to the south by taking the bypass road.
Book a speedboat for whale watching.
Useful information when planning your trip.
How to get around Iceland?
Towns and villages in Iceland tend to be quite remote. So you will need to get around in rental cars or vans. You could also do it by public buses, however, the frequency of these is very low and you may lose a lot of time.
Another option to cross the island quickly is by domestic flights. Keep in mind that Iceland has only 3 airports: Reykjavik (west), Egilsstadir (east), Akureyri (north).
Tips on car rental in Iceland
A small car will be more than enough to drive around the Ring Road.
Book your rental car with comprehensive insurance without excess.
In the highlands of Iceland, only four-wheel-drive vehicles are allowed.
Money-saving tip: For the highlands, there are also day trips from Reykjavík (see example trip). This way, you save the cost of a 4WD for the entire rental period.
Instead of a car, you can also explore Iceland with a motorhome.
The best season to travel to Iceland
Summer (May-August): During this season temperatures are pleasant and you could dress in a T-shirt, however, you will occasionally feel freezing winds and temperatures below 10°C. All roads are passable, especially those in the highlands, which remain free of snow during July and August or so. A disadvantage of this season is the high cost of accommodation and the large number of tourists you will encounter.
Winter (October – March): During this temperature the temperatures hover around 4°C, due to the few hours of sunshine. Highland roads are often closed. However, you will find fewer tourists, beautiful snowy landscapes and the possibility of seeing the Northern Lights from mid-September to the end of March.
Low season (April/September): These months are still a good option, there are fewer tourists and average temperatures are moderately cool, although snow is not lacking.
The official language is Icelandic, but everyone speaks English very well, which allows very good communication with residents if you speak the language.
The official currency is the Icelandic krona and you will find ATMs in all tourist areas.
This question is quite frequent due to Iceland's location and the constant volcanic activity in the area. But the early warning systems for volcanic activity are very good, so there is no need to worry. Iceland is totally safe, when a large volcano like Katla or Askja becomes active, the area is closed and monitored.
You may also be interested in: